Dortmund InterTabac Trade Fair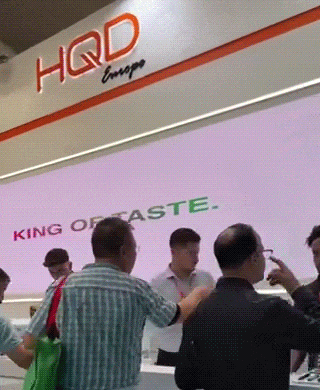 ——
After the IECIE international exhibition in August, we came to the September Dortmund InterTabac in Germany.
InterTabac, organized by the renowned German Westfalen Exhibition Group, is an annual exhibition in Dortmund-Strobelallee, Germany.
InterTabac, the world's largest trade fair for tobacco products and smoking accessories, is the most important meeting place for national and international representatives of the tobacco industry, retail and wholesale sectors. It boasts about 13,500 sqm of exhibition space and attracts over 10,000 guests every year!

Over the years, HQD has established a strong and stable presence in the European market, with its brand influence extending to countries such as Germany, Spain, France, Poland, Latvia, and more.
Specifically in Germany, HQD has built a solid market foundation, so all the brands in the region have earned recognition from local dealers and resulted in remarkable achievements.
CIRAK-New In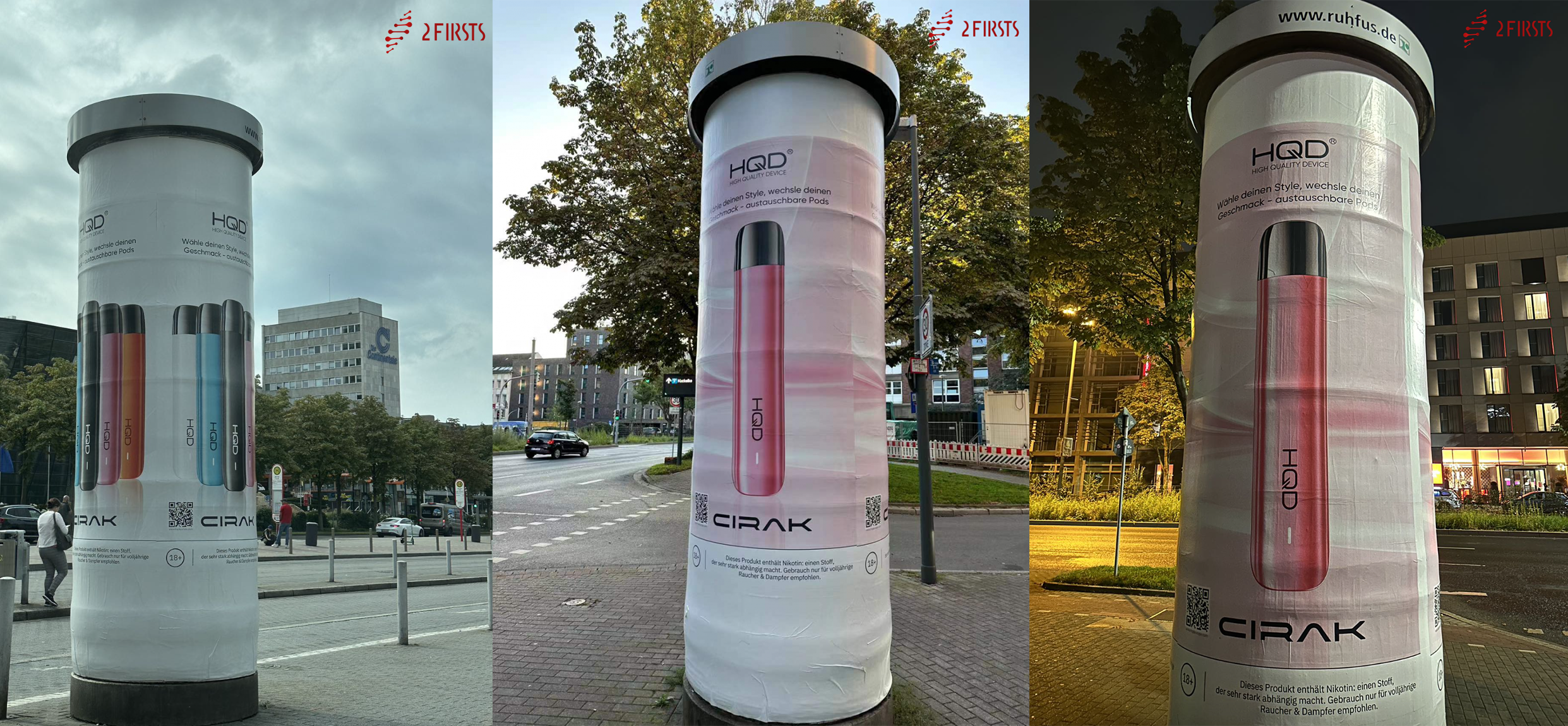 Seeing the significance of the fair, HQD implemented comprehensive online and offline marketing strategies in Dortmund. The streets were adorned with large posters featuring our new product, "CIRAK," with the tagline "Whale deinen style, wechsle deinen Geschmack——austauschbare Pods," successfully creating a buzz and capturing the attention of attendees.
The event draws countless exhibitors to show their latest products to thousands of international retailers, wholesalers, distributors, and consumers. Undoubtedly, this trade fair presented an exceptional opportunity for HQD to promote itself in the global market further.
Various Products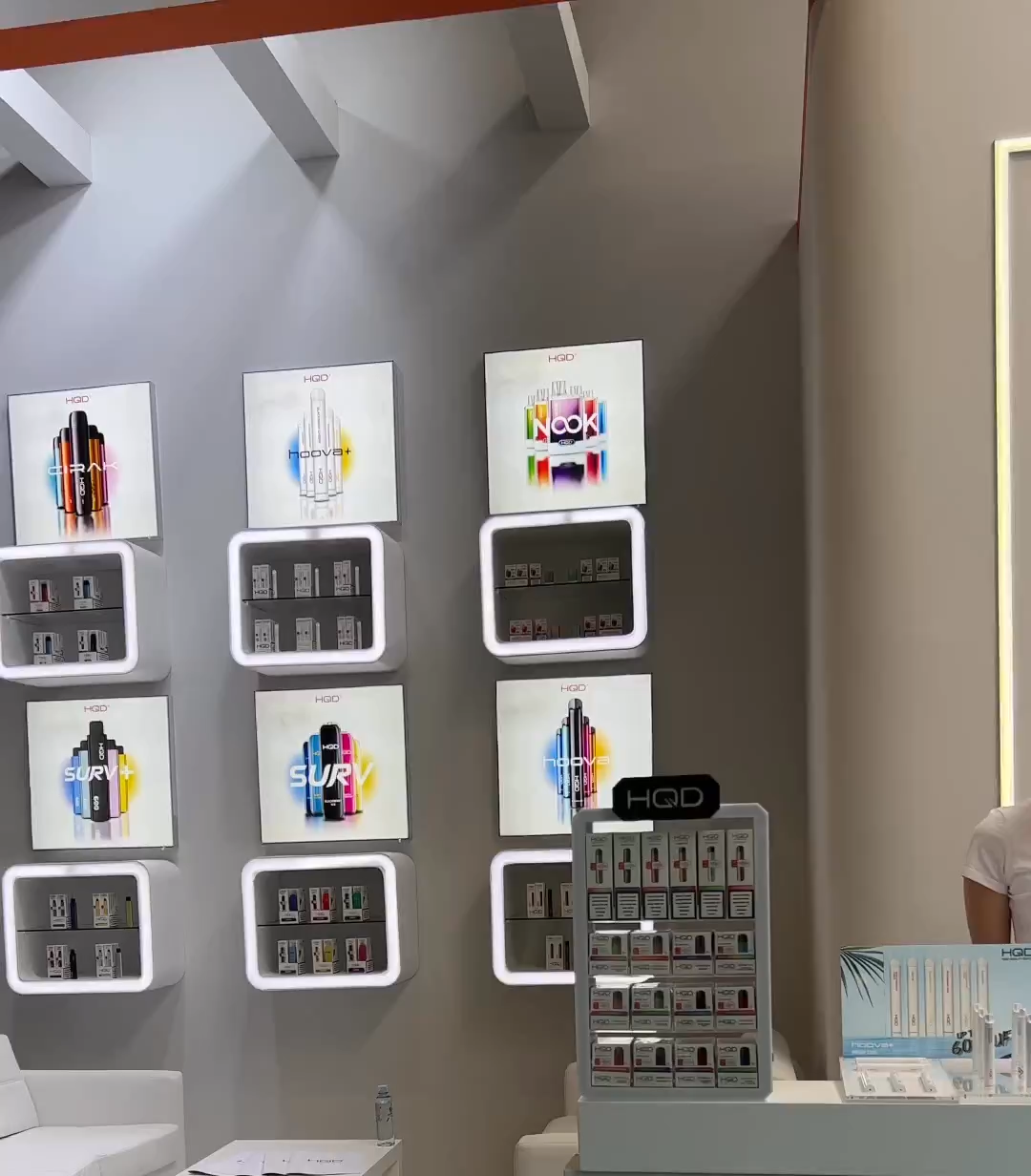 Of course, HQD has also always taken advantage of its extensive range of products to suit the various preferences of local customers and gained wide recognition. HQD kicked off the trade fair by unveiling its new pod device——"CIRAK," featuring high-end Porsche colors, a slim body, and playable interaction. Besides, these impressive advantages, such as premium materials, advanced techniques, high performance, good value, and environmental protection, also make it preferable for German users.
There were many other best-selling disposable vapes as well. Among them was the high-end CUVIE SLICK, featuring a business-style design, groundbreaking technologies, and technical patents. By upgrading and innovating the device, HQD has launched a range of upgraded versions that have built-in intelligent programs and premium digital screens to monitor device conditions. Their huge improvements in heating systems, flavor delivery, and airflow deliver first-rate vaping experiences.
Renowned globally, the Cuvie series consistently tops the charts when it comes to disposable vapes thanks to their exceptional quality, ingenious design, and unparalleled performance. EOS, with the same manufacturing process as CUVIE SLICK, is specially designed for daily users. Its durable and wear-resistant surface is impervious to daily abrasion, and the compact size is easy to carry. In addition, the Super series and Wave series also enticed guests to come to the HQD booth.
Good Tech, Good Vape
Cutting-edge technology lies at the heart of exceptional products. In the HQD booth, customers were greeted with product technology videos first. This gave them a comprehensive understanding of HQD's offerings and effectively showcased their unique advantages standout among other brands.
In the disposable field, HQD continues to gain global vapes' increasing trust and support. Also, its unwavering commitment to product quality and extensive research on atomization technology makes more partners more confident in the future.
At InterTabac 2023, HQD proactively engaged with customers from diverse regions. The positive reception and warm praise were accompanied by valuable feedback, which will help us know customers' needs better and make products meet their expectations further!