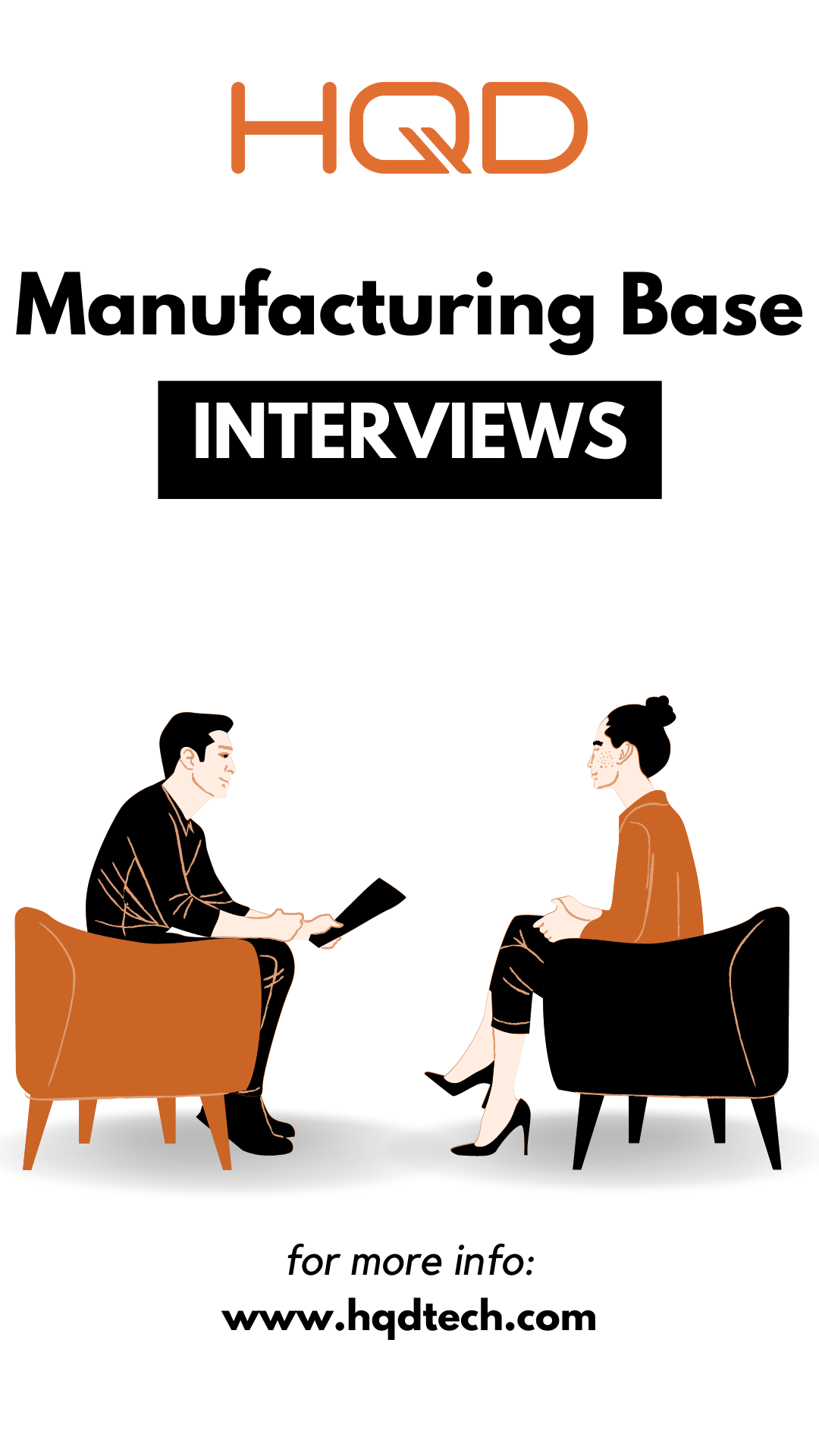 As HQD is famous worldwide, more and more people are becoming interested in it and want to know more about HQD and how it produces high-quality products!
Now, Take A Sneak Peek at the Interviews to Satisfy Your Curiosity!
To provide everyone with a comprehensive and firsthand understanding of HQD production base, we have specially invited an HQD production worker to give a detailed introduction.
1. What are the main departments in HQD factory?
We have 4 main departments: the Production Department, Quality Department, Supplier Management Department, and Warehousing Department.
The Production Department organizes production activities in accordance with the production plan to ensure timely production output that meets the established standards.
The Quality Department oversees product inspection, supervision, and quality assurance during production, while the Supplier Management Department is responsible for the confirmation, analysis, and handling of incoming materials from suppliers. The Warehousing Department manages the storage and distribution of materials.
Together, these departments work to ensure seamless production activities and deliver high-quality HQD products to the world.
2. Wow, it's surprising how many departments are involved in the production process. Could you explain the workflow in more detail?
Yes, it consists of three primary stages: pre-processing, assembly, and packaging. First, we perform welding and preliminary processing of components such as coils and batteries; Second, the processed components are assembled; Third, products undergo quality testing.
Only after passing the quality inspection by the Quality Department can the products proceed to the final step of packaging and then be shipped out.
Of course, each of these stages has specific standards that must be met, and relevant records must be made for a product to move on to the next stage.


3. Would it take longer if we did mass production?
Certainly not, we have achieved comprehensive automation in various aspects, such as automated assembly, quality testing, data evaluation, etc.


4. How do these automated equipment assemble parts?
It includes 5 steps: coils > silicone gel > battery > e-liquid > silicone gel again. We source raw materials and core components from well-known suppliers in the industry.
Robotic arms control the handling of parts, while optical positioning ensures high-precision assembly. In addition, our 100,000-level dust-free workshops promise a high level of cleanliness during the assembly process.
Also, in order to continuously produce professional and high-end products, we have been actively introducing advanced and cutting-edge equipment and establishing production bases with high standards.
5. Indeed, a high-standard production environment creates high-quality products! Through these automated equipment, HQD maintains a competitive edge in assembly efficiency and quality!
Yes, these automated equipment are managed by our experienced technical engineers. We can closely monitor the assembly processes by computer operations, helping to achieve high production output and high-quality products. So, our final product yield has already reached 99.5%!
6. That is an incredible number! Only strict standards can deliver a better product experience! Does the packaging also have specific requirements?
Yes, first, each finished product needs to be individually sealed. Then, we conduct thorough checks for any air leaks before proceeding with uniform packaging.The package boxes also have clear prints of essential information such as product specifications, and production dates. On the side is a unique identification code. Consumers can verify the authenticity on our official website after purchase.
That's indeed convenient! I also heard that the codes have recently been upgraded to protect products and ensure safe usage for more users!
7.
OK, we'll come to quality tests after the assembly, right?
Yes, we conduct a series of rigorous quality tests in the stage, such as structural testing, performance testing, drop testing, thermal shock testing, aging testing, negative pressure testing, leakage testing, and friction testing.
These tests comprehensively simulate real-life scenarios and aim to provide a safer and more comfortable user experience.
8.
The products that have gone through these tests must be high quality, which is why vapers have been praising HQD, especially the taste! So, we're curious about how the flavors make everyone so satisfied.
The quality of e-liquid plays a vital role in ensuring customer satisfaction. Our research center puts significant effort into preparing e-liquid and optimizing it to reduce harm through professional equipment.
Once the composition meets the standards, expert tasters come into play. They will refill the e-liquid into products for sensory analysis and strive to improve nicotine delivery efficiency, user experience, and flavor accuracy.
Moreover, IPQC engineers will conduct periodic inspections, test the components and concentrations of vapor, and then provide testing reports that evaluate the taste's qualification, accuracy, and consistency. These procedures ensure a superior taste experience.
9. Yes, but how do we accurately control the puff counts?
We have professional equipment to get things done well. It can simulate the frequency and depth of people vaping by precisely setting resistance, flow rate, speed, and time, allowing us to obtain more realistic data.
10.
It sounds great! HQD's worldwide popularity can be attributed not only to advanced equipment and high-standard workshops but also to the dedication of all employees! What other efforts have we made in terms of worker training?
Employee training is a critical part of our production. We focus on cultivating a strong sense of responsibility and quality awareness in every production worker and integrate a spirit of quality into every production process.
We usually have monthly technical competitions and knowledge quizzes to make the training process engaging and informative. These activities not only increase their motivation but also facilitate their acquisition of new knowledge and skills!
The meticulous attitude of all employees toward products makes HQD sought-after in over 120 countries and regions worldwide, including Europe, America, Japan, South Korea, Russia, etc.
Now, HQD has been recognized as a well-known disposable vape brand and has won numerous accolades from internationally influential organizations.
In the future, HQD will strive to develop top-tier vapes and bring more ultimate product experiences and delightful lifestyles.