TikTok data shows that, overseas video broadcast volume about HQD has exceeded 660 million times!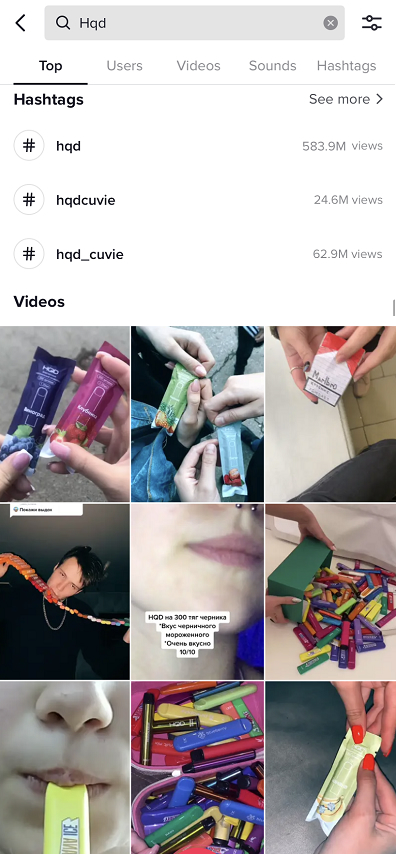 Since 2018, HQD has taken overseas market as the key development direction, with the European and American markets as the breakthrough, and now covers most overseas countries and regions. Based on the age group of 18 to 50, fashionable HQD vape is the most popular among young people and our users have increased by multiple.

In 2020, China's domestic e-cigarette market has quietly grown into the world's third largest market. As the world's largest producer and exporter of e-cigarettes, China is the core driver of the global e-cigarette industry, with its e-cigarettes being exported to 132 countries worldwide.
HQD takes Europe and the United States as its main export markets, among which Europe, the United States and Southeast Asia are the largest consumer regions, accounting for about 80% of HQD share.
As a new journey will begin in 2021, what challenges will HQD face? Can we still innovate and create brilliance? From the development of e-cigarette industry in previous years, the e-cigarette industry is still in its growth. In 2021, the e-cigarette industry will still maintain a rising growth rate and will rise to a new height in terms of both the size and market scale.
According to the data analysis of e-cigarette industry, China's e-cigarette export is estimated to reach RMB 49.4 billion (US$7.559 billion) in 2020, compared to RMB 43.8 billion in 2019, representing a 12.8% increase.
In 2020, the growth rate of China's exports in 2020 is significantly lower than that of China's domestic market due to the impact of the epidemic and the tightening of the PMTA policy in the USA, the largest exporter of e-cigarettes.
But even against the backdrop of an unfavourable environment, overseas export still maintains a rising momentum.
The export volume of the e-cigarette industry is forecast to reach RMB 63.2 billion in 2021, with an expected compound annual growth rate of 28%. At this growth rate, the export volume is expected to reach RMB 169.7 billion in 2025.
Based on the data, China's e-cigarettes have formed a certain scale, both in industry chain and market. It is believed that with the support of policies and the correct supervision of regulations, the future is still promising.